Mep Photo Renamer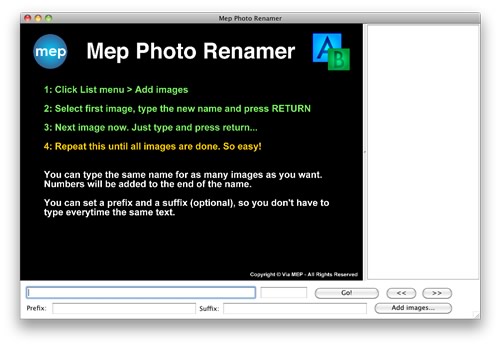 Rename lots of photos, save your time!
Each photo is a unique picture. It deserves a good name. It's so bad when you can't find a photo in your own computer... With Mep Photo Renamer you will save a lot of time while renaming your favorite pictures, because it focuses on just one thing: give the name! It's much better than giving lots of mouse clicks in Windows Explorer, KDE, Gnome or Finder.
No more words needed. Really. See it in action and download it now!
Mep Photo Renamer is free for Windows and Linux, and shareware for Mac OS X. It runs on Mac OS X 10.6 or higher.
Version 1.0:
Version 1.1: Source-code (Lazarus/FPC)
Portuguese: para baixar em português, acesse o site brasileiro: Mep Renomeador de Fotos